A road trip is more than a journey, it's an experience. And when it comes to creating unforgettable experiences, there's nothing quite like hitting the open road behind the wheel of a luxury car. For those with discerning tastes who value comfort, style, and performance, luxury cars provide the perfect combination of these elements. Whether you're a business executive, an entrepreneur, or simply an enthusiast of high-performance vehicles, this article is for you. In 'Top Luxury Cars for the Ultimate Road Trip Experience', we'll delve into the best luxury cars for road trips and how you can rent these vehicular masterpieces from Monza Exotics.
As experts in the field of luxury and high-performance vehicles, we understand the unique needs and preferences of our clientele. From the streets of Beverly Hills to the scenic routes of Newport Beach, our guide to the top luxury cars for road trips will ensure your journey is as memorable as your destination. So, if you're planning a trip through Los Angeles County, Orange County, or Riverside County, or simply looking for a unique driving experience, you're in the right place.
In the sections to come, we'll explore what makes a car luxurious, why a luxury car is the perfect choice for your road trip, and present our top five picks for the best road trip luxury cars. Plus, we'll guide you through the simple rental process at Monza Exotics. Let's get started!
Understanding Luxury Cars: What Makes a Car Luxurious?
Dive into the world of luxury vehicles and understand what sets them apart. Luxury cars aren't just about glossy exteriors and fancy badges; they're a testament to superior craftsmanship, advanced technology, and unparalleled comfort.
The Definition of Luxury in the Automotive World
In the automotive world, the term 'luxury' is synonymous with quality, comfort, and prestige. Luxury cars are sophisticated vehicles designed with top-tier features, meticulous attention to detail, and a focus on providing a superior driving experience. They are not just modes of transportation; they are extensions of the owner's personality and status.
Driving a luxury car like a BMW, for instance, creates prestige and sets you apart from the crowd. Whether you're attending a business meeting or a social event, owning a luxury car is a symbol of success and sophistication.
Key Features of Luxury Cars
Luxury cars are packed with high-end features that cater to the needs of discerning drivers. Let's delve into some key features that define a luxury car:
Unmatched Performance: Luxury vehicles, such as those from Lamborghini, offer powerful engines and advanced features like all-wheel drive and adaptive suspension, providing an exhilarating driving adventure.
Superior Comfort: Luxury cars prioritize comfort with their plush interiors and advanced features. From heated seats to climate control and ambient lighting, these vehicles ensure a relaxing and enjoyable driving experience.
High-End Technology: Luxury cars are often at the forefront of automotive technology, featuring the latest in infotainment systems, advanced safety features, and state-of-the-art driver assistance systems.
Premium Materials: The interior of a luxury car showcases high-quality materials like premium leather, wood veneers, and brushed metal, enhancing the aesthetic appeal and tactile experience.
Attention to Detail: Luxury cars stand out with their exceptional craftsmanship and attention to detail, from the stitching on the seats to the layout of the dashboard.
Brand Prestige: Luxury cars come from manufacturers with a long history of producing high-quality, high-performance vehicles. Brands like Rolls-Royce and Ferrari are synonymous with luxury and prestige.
Understanding the features and allure of luxury vehicles is the first step to choosing the perfect car for your ultimate road trip experience. In the next section, we'll explore why a luxury car is the ideal choice for your journey.
Why Choose a Luxury Car for Your Road Trip?
When it comes to creating unforgettable road trip memories, a luxury car can significantly enhance the experience. The allure of driving an exotic vehicle isn't just about prestige and style, it's also about the comfort, advanced technology, and impressive performance they offer.
Comfort and Convenience
A luxury car provides a superior level of comfort that can make long drives feel like a breeze. From spacious interiors to premium upholstery, heated seats, and climate control, these vehicles are designed to provide a relaxing and enjoyable driving environment. With luxury cars, you can expect a hassle-free ride where convenience is key. Brands like Mercedes, BMW, and Rolls-Royce are known for their attention to detail when it comes to comfort and convenience, ensuring a smooth and enjoyable journey.
Advanced Technology and Safety Features
Luxury cars are often at the forefront of automotive technology, offering an array of advanced features that enhance both safety and convenience. From all-wheel drive, adaptive suspension systems, to innovative infotainment systems, luxury cars are designed to deliver a secure and entertaining drive. Advanced safety features such as collision detection, lane assist, and blind-spot monitoring can provide peace of mind throughout your journey, making your road trip safer and more relaxed.
Performance and Handling
When it comes to performance, luxury cars are unparalleled. They are equipped with powerful engines and advanced driving features that make for an exhilarating driving adventure. Whether you're cruising along the coast or navigating winding mountain roads, the exceptional handling and performance of luxury cars like Lamborghini or Ferrari ensure a thrilling and memorable road trip experience.
Choosing a luxury car for your road trip goes beyond the prestige associated with these vehicles. It's about the enhanced comfort, cutting-edge technology, safety features, and remarkable performance that these cars offer. Elevate your road trip experience by opting for a luxury car rental – you'll not only travel in style but also enjoy an unforgettable journey.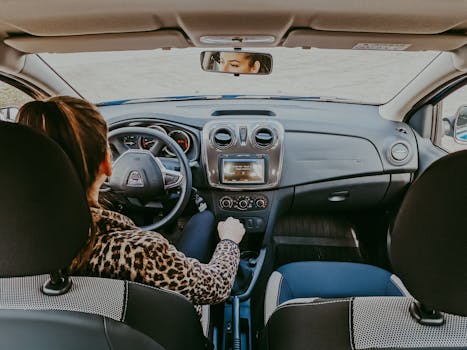 Top 5 Luxury Cars for Road Trips
Choosing the right luxury car for your road trip can dramatically enhance your journey. Here are the top five luxury cars that combine comfort, performance, and style to deliver the ultimate road trip experience.
Rolls-Royce Ghost: The Epitome of Luxury
The Rolls-Royce Ghost is a top-tier luxury car that prioritizes comfort and elegance. This timeless symbol of luxury boasts an iconic design, a spacious cabin, plush leather seats, and a powerful V12 engine. Whether you're on a long drive or attending a special event, the Ghost offers unparalleled comfort and a smooth driving experience. Renting this beauty is a statement of prestige, making it a perfect choice for a memorable road trip.
Luxury Meets SUV Capability
For those desiring the comfort of a luxury car with the capability of an SUV, the Bentley is an excellent choice. It combines Bentley's traditional craftsmanship with modern SUV capabilities. It offers a high level of comfort, with its spacious interior and advanced technology, making it perfect for long road trips.
Mercedes-Benz S-Class: A Tech-Loaded Luxury Sedan
The Mercedes-Benz S-Class is the pinnacle of luxury sedans. Known for its advanced technologies, this car features a high-end entertainment system, cutting-edge safety features, and a comfortable, luxurious interior. It also offers a powerful performance, making it a thrilling car to drive on open roads.
Porsche Panamera: A Sporty and Luxurious Choice
The Porsche Panamera offers the best of both worlds – it combines the performance of a sports car with the comfort of a luxury sedan. It offers a thrilling driving experience without compromising on comfort, making it a great choice for those who want to add a touch of excitement to their road trip.
BMW 7 Series: A Blend of Comfort and Performance
Finally, the BMW 7 Series is a luxurious sedan that offers both comfort and superior performance. Its spacious interior, advanced technology, and impressive handling make it an ideal car for road trips. It ensures a smooth ride, allowing you to enjoy your journey with ease.
Each of these luxury cars offers a unique blend of comfort, performance, and style, enhancing your road trip experience. All you need to do is choose the one that best suits your needs and hit the open road in style.
How to Rent a Luxury Car for Your Road Trip with Monza Exotics
For your next road trip, why settle for less when you can experience the epitome of luxury with Monza Exotics? Renting an exotic car with Monza Exotics is not just about getting from point A to point B, it's about the exhilarating journey and unforgettable experience. With a diverse collection of high-end vehicles and exceptional customer service, this luxury car rental service in Los Angeles and Orange County is at the forefront of making driving dreams come true.
The Range of Luxury Cars Available at Monza Exotics
Monza Exotics boasts a comprehensive fleet of exotic cars that cater to every discerning driver's taste. From the power of Lamborghini to the unmatched style of Rolls-Royce, the selection includes top-tier brands like McLaren, Ferrari, Bentley, BMW, Mercedes, and Range Rover. Whether you prefer a sporty convertible, a stylish coupe, a luxurious sedan, or a rugged SUV, Monza Exotics has the perfect vehicle for you to elevate your road trip experience.
The Rental Process at Monza Exotics
Renting your dream car is a piece of cake at Monza Exotics. The user-friendly online platform allows you to browse through the available cars, pick your preferred model, and fill out the necessary information on the reservation page. You can choose flexible rental packages, from short-term hourly or daily rentals to long-term weekly rentals. After submitting your reservation, a hold will be placed on your payment card for the rental amount. Then, you will receive a reservation request email. Rest assured, the exact car you chose during the reservation process is the one you will receive when you pick up your rental.
Additional Services Offered by Monza Exotics
To ensure a seamless and stress-free experience, Monza Exotics offers additional services that go beyond mere car rentals. As part of their commitment to provide unparalleled customer service, they offer convenient delivery and pick-up options. Plus, if you want to indulge in the luxury experience without having to drive, their professional chauffeur services are at your disposal.
With Monza Exotics, you are not just renting a luxury car for your road trip. You're signing up for a dream-like experience that turns your travel journey into an unforgettable adventure. So, buckle up, ignite your passion for speed and elegance, and let Monza Exotics take your road trip to the next level.
Tips for Planning a Luxury Road Trip
Once you've decided to elevate your road trip with a luxury car from Monza Exotics, it's time to start planning. Here are some tips to get you started on your unforgettable luxury road trip.
Choosing the Right Luxury Car for Your Needs
The first step is choosing the right luxury car that matches your style and road trip needs. Monza Exotics offers a wide range of exotic cars from prestigious brands like Ferrari, Lamborghini, Porsche, and Rolls-Royce, to name a few. Whether your preference leans towards the sleek lines of a sports car or the refined elegance of a luxury sedan, there is an exotic car to suit every taste.
Consider the duration and nature of your journey, the number of passengers, and the type of experience you want to have. For instance, if you are planning a long trip with family, a luxury SUV like the Bentley Bentayga might be a more comfortable choice. On the other hand, if it's a romantic getaway for two, a Ferrari or Lamborghini could add an extra layer of excitement.
Planning Your Route and Stops
A well-planned route can significantly enhance your luxury road trip experience. Southern California, with its glamorous cities like Los Angeles and Orange County, offers a myriad of picturesque routes and iconic landmarks, making it an ideal destination for luxury road trips.
When planning your route, balance well-known destinations with off-the-beaten-path discoveries. Los Angeles offers a vibrant mix of iconic landmarks like the Hollywood Walk of Fame and Griffith Observatory, as well as stunning coastal drives along the Pacific Coast Highway. On the other hand, Orange County boasts beautiful beaches, upscale communities, and artistic havens.
In addition to the route, plan your stops carefully. Luxury road trips are not just about the destination; they're about the journey and the experiences along the way. Consider stopping at luxury resorts, high-end restaurants, or even opt for unique experiences like helicopter tours or private yacht charters to make your road trip more memorable.
Ensuring Your Luxury Car is Road-Trip Ready
Before hitting the road, ensure your rental luxury car is in top condition. The good news is, when you rent an exotic car from Monza Exotics, they take care of all the maintenance and pre-checks for you. The cars are always delivered in pristine condition, fully detailed and ready to go.
However, it's always a good idea to familiarize yourself with the car's features and controls, check the fuel level, and understand the insurance coverage provided by the rental agency. This will not only give you peace of mind but also enhance your overall driving experience.
In conclusion, planning a luxury road trip involves more than just renting a luxury car; it's about creating an unforgettable travel experience that combines luxury, adventure, and sophistication. So, choose your dream car, plan your route, and let the open road unveil the wonders of Southern California in style.
Final Thoughts
Planning the ultimate luxury road trip is an alchemy of choosing the right car, the perfect route, and the best pit stops. With Monza Exotics, you're not just renting a car; you're curating an experience that reflects your taste and lifestyle. Whether you're a business executive, an entrepreneur, or a lover of the high life, our fleet of high-end luxury vehicles like the Rolls-Royce Ghost, Bentley Bentayga, Mercedes-Benz S-Class, Porsche Panamera, and BMW 7 Series are ready to elevate your road trip experience to new heights.
Monza Exotics is committed to providing an unparalleled experience, from the moment you choose your dream car to the moment you return it. We take pride in our transparent rental process, top-notch customer service, and additional services that make your trip smooth and hassle-free. Our goal is to let you focus on enjoying the open road and the luxury at your fingertips while we take care of the rest. Not to mention, our presence in key locations like Los Angeles County, Orange County, Riverside County, and cities like Beverly Hills, West Hollywood, Newport Beach, and Laguna Beach makes us a convenient choice for all your luxury car rental needs.
We hope this guide has provided you with insightful tips to plan your luxury road trip. And remember, at Monza Exotics, we believe that the journey is just as important as the destination. So, why not make your next road trip an extraordinary adventure with a touch of luxury and high-performance that only a luxury car can offer? Your perfect luxury road trip is just a booking away.
Experience the thrill of the open road like never before. Experience Monza Exotics.